If Star Wars has taught us anything in its nearly five decades of existence, it is that Jedi training is quite hard. Additionally, it is more challenging if you don't appear to be highly Force-sensitive in the conventional sense. So please keep Sabine Wren (Natasha Liu Bordizzo) in Ahsoka in your thoughts as she struggles to live up to her master's high standards.
'Time to Fly', the third episode of the new Star Wars series, ushers in a calmer tempo after the tumultuous opening provided by Ahsoka episodes 1 and 2. After all, there can't just be lightsaber fights and popular Rebels appearances.
As Ahsoka Tano (Rosario Dawson) attempts to persuade Sabine to hone her instincts and ability for anticipation, Huyang (David Tennant) tests her knowledge of the basics of using a lightsaber. Ahsoka is aware that the Force is present in all living things and thinks that in order to become a skilled Jedi, training and discipline are more crucial than innate talent.
Since this franchise tends to think that everyone who can use a lightsaber should be linked to a Skywalker, this moment is more significant than it may seem. It promotes a theory and method of the Jedi skills that feels entirely foreign. There is definitely a plot line worth following to see where it leads.
While Ahsoka and Sabine are on a quest to learn what Morgan Elsbeth (Diana Lee Inosanto) is up to, Hera Syndulla (Mary Elizabeth Winstead) is attempting to get New Republic consent to assist them. She expresses her conviction that Grand Admiral Thrawn's return is imminent.
Chancellor Mon Mothma (Genevieve O'Reilly) pays attention, but combative Senator Xiono (Nelson Lee) believes Hera is just looking for Ezra Bridger for personal reasons. Hera informs her that Xiono never participated in combat and thinks that Thrawn has the strength to bring the dispersed Imperial remnants back together. However, this is insufficient to prevent the Senate's scepticism from rejecting her proposal.
The New Republic's carelessness towards the remnants of the Empire is already a common theme. It's quite damning that they seem destined to repeat the mistakes of earlier governments.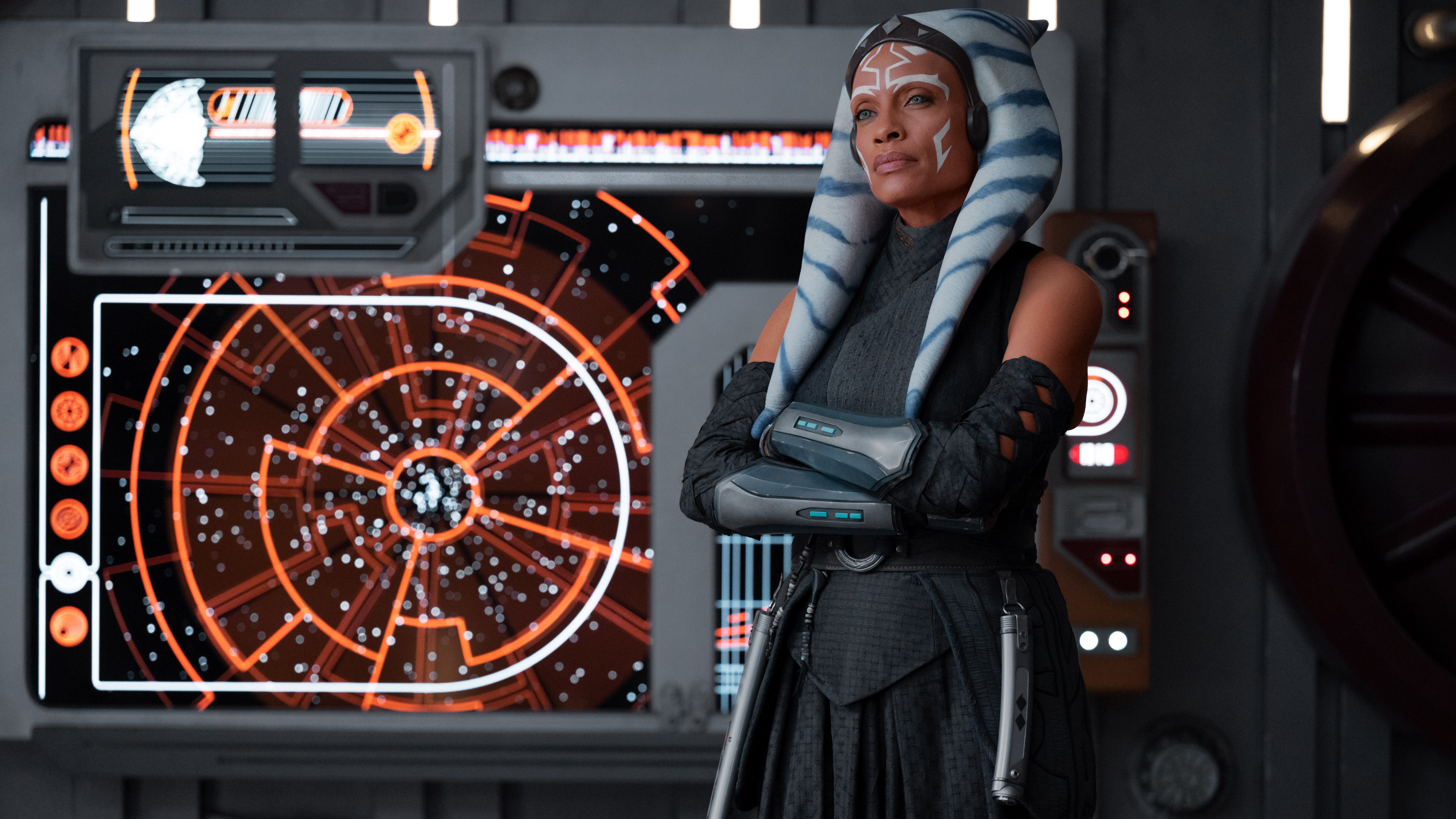 Soon after, warriors including those commanded by Shin Hati (Ivanna Sakhno) and Inquisitor Marrok (Paul Darnell) assault Ahsoka and Sabine when they land in the Denab system. Once Ahsoka gives her the go-ahead, Sabine picks up the tail gun and dispatches a large number of the combatants. Elsbeth then begins to launch turbolasers from the Eye of Sion.
While scanning the Eye, Huyang's spacecraft is severely damaged. In order to buy Sabine some time to fix it, Ahsoka dons a spacesuit and makes her way outside, engaging the fighters with her lightsaber while perched on the ship's wing. They come across a herd of purrgil when they are able to fly down onto the planet Seatos' surface.
In season three of The Mandalorian, Baby Yoda observed the purrgil while they were in hyperspace. Of course, their association with Ezra Bridger gives them additional resonance in this situation. At the conclusion of Star Wars Rebels, Ezra exploited his connection to the purrgil to beat Thrawn and launch himself and one of the greatest Star Wars villains into hyperspace to free Lothal.
Huyang verifies that the Eye of Sion is a sizable hyperspace ring that is strong enough to enable jumps between galaxies when the spacecraft lands. Huyang recollects that "intergalactic hyperspace lanes" were mentioned in the Jedi archives and that these lanes paralleled purrgil migratory routes.
However, they might not have much time to look into things since Baylan Skoll (Ray Stevenson) sends his goons to hunt down our heroes in the forest as the episode comes to a close.
The arrival of the purrgil indicates that Elsbeth is considerably closer than it first appeared to being able to locate Thrawn. The Pathway to Peridea, which we learned about last week, probably has something to do with the purrgil migratory routes Huyang just mentioned. Now, this involves more than just chasing your tail.
Even if this week's Disney Plus episode of Ahsoka didn't quite live up to the lofty bar set by the debut, the Star Wars series is still moving along nicely. The relationship between Ahsoka and Sabine is still evolving, the main goal has advanced significantly, and there is genuine political intrigue lurking underneath it all. Star Wars so far, so good.