Is being updated with the occurrences around the world, your thing? Then Glance is a must-have technology in your MI, Samsung, and Vivo smartphones. This India-based technology lay upon the world, a new way to look at lock screens. It's no more the time to consider your lock screens, as a place for wallpapers. Now, lock screens are much more than a wallpaper flaunt! Instead, you now have a whole world that's personalized as per your interests! Even the updates, be it news, sports, entertainment, and much more!
If you wish to learn more about Glance, please keep reading the article below! It'll prove to be a perfect guide for your acquaintance with the update feature on Glance. Consequently, you'll also get to learn different functions with the prompt- "how to?" For instance – how to remove a Glance from the lock screen or vice-versa! With this said, let's learn more about Glance on your smartphones. Read the below article and escape missed updates on your interests!
How does Glance bring something for everyone?
It shouldn't come as a surprise that Glance has something for everyone! Why? Because Glance is used by 233 million active users! And, it's only possible if Glance is inclusive of everyone's needs. Also, being a lock screen-enhancing technology, it needs to have something for everyone! Why? Because everyone has lock screens! Thus Glance comes with a wide variety of features like shopping, updates on news, fashion trends, games, and much more!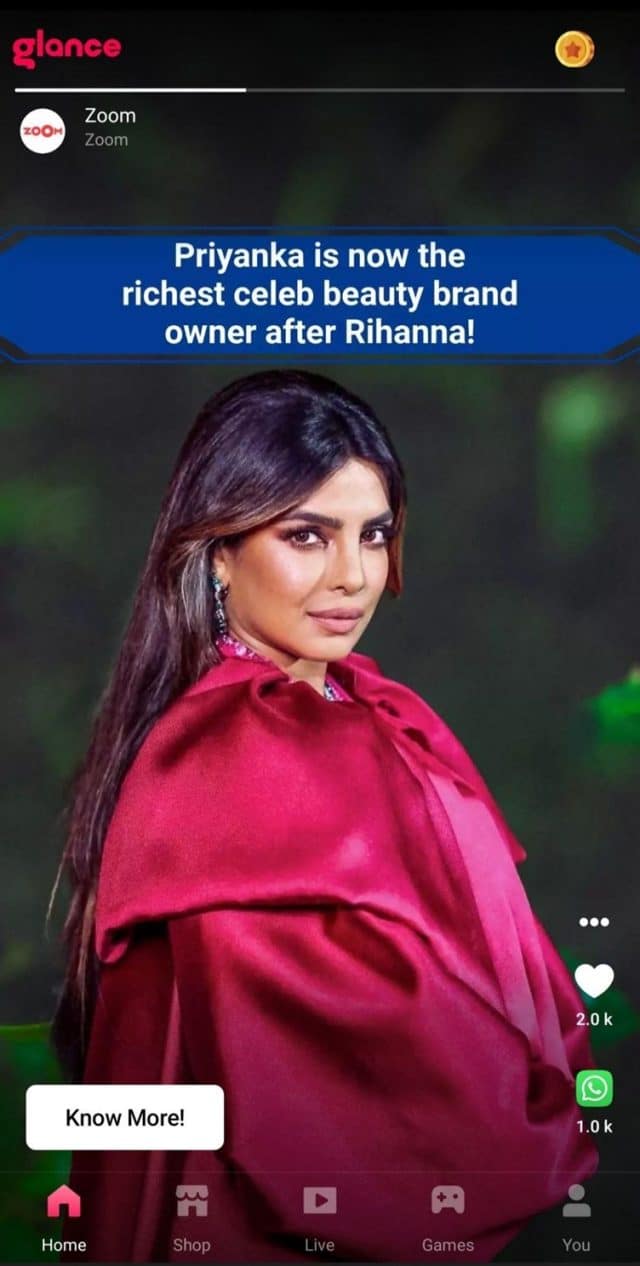 Get Personalized Updates on Glance
The Glance lock screen has many features, among which, are personalized updates on your interests. Sounds interesting? Of course, it does! Who wouldn't like to wake up in the morning to see updates on all the issues relevant to them? Everyone will! And this is exactly what Glance brings with its smart lock screen in MI, Realme, Vivo, Samsung, and Redmi smartphones.
News Updates
Are you in a constant search for recent shifts in the politics, law, and bills in your country? Then Glance will give you all the important news updates!  All you have to do is, check your smart lock screen!
Updates on Sports
Hey there! If it's a sport you are interested in, Glance has your back too! You will get recent updates on your Glance lock screen about your favorite sport or the sportsperson you follow! Some updates can even be their interviews on the Glance live stream. So, watch out!
Environmental Updates
Is Greta Thunberg your source of inspiration? Are you also concerned about the earth and the constantly changing environment? Then worry not! Glance will bring you different information and updates about environmental issues. It'll range from increasing global warming to ways to prevent the same!
Updates on your Favorite Celebrity
There's something for you too, yes YOU, the starstruck! You will get all updates about your favorite celebrity and others too on the smart lock screen. So, why wait, personalize Glance on your lock screen to your interests!
Get Updates in your Local Language
Glance isn't only introducing features, but also, inclusivity. This approach of Glance is seen in 27% of users from the age group between 45 to 50 years. Not only that, but Glance gaming also has 47%, female users! A similar approach to inclusivity is shown by the enhanced lock screen in including different regional languages like Kannada, Tamil, etc.
Is Glance all about Update Pings?
Glance has way more to itself than the pings for your updates. The Glance lock screen comes with awe-striking features that'll put you into a whole different world of convenience, entertainment, and enjoying yourself! It brings to your smartphone lock screen everything, including the wallpapers, even better, beautiful images, constantly changing anew!
Glance: Smart Lock Screen with games
For all gamers, Glance brings 500+ games. They are available to play directly, without having to download them on your smartphone. Also, there's so much to go around, considering the 19 categories available on Glance.
You can also live-stream on Glance using the Nostra streaming platform. Additionally, one can also watch live streams including sports, celebrity interviews, etc. In a recent report, 10 million viewers watch live streams on Glance, daily.
It's made more fun with different other perks that come with live streams! Yes, more perks! These include participating in the live polls, live chats, and quizzes! Won't it be fun to interact with your favorite live gamers like- Penta Esports, The Gamer Toys, Quinn Gaming, etc?
Glance Lock screen: Brings you the eye-soothing images
Glance isn't your usual wallpaper application. It's more than that, it brings eye-soothing images to your lock screen. With them, you also get pieces of information that'll help quench your thirst for knowledge! The Glance lock screen also has short videos that are personalized to your liking!
Glance: Quick recap for the busy bees
Time is of the essence and we at Glance understand that. So, we'll help you walk through the article, in a few points:
Glance is a smart lock screen that's inbuilt within the smartphones launched by Samsung, Realme, MI, Oppo, etc.
With Glance, your lock screens are revamped into the best version of themselves!
Glance lock screen gives you a platform that brings online shopping, games, live-streaming, and updates (news, sports, environment, etc.)
Both your phone's battery and your personal information are secure with Glance. Don't fall for any misinformation!
Be informed: How to remove/enable Glance from the lock screen?
After all the awe-striking features of Glance discussed in the above article, it's time to discuss some functions! Like if you are curious about how to enable or disable the Glance lock screen, here is the place to find answers! So, to learn how to turn on the smart lock screen and how to remove Glance from the lock screen, visit here! Although, if you already have Glance enabled, then you don't have to worry about it. After all, we don't want you to miss those updates, personalized to your taste!