Vehicle Roadside Assistance Market Size to Surpass USD 39.65 Billion by 2032
The global vehicle roadside assistance market size reached USD 23.61 billion in 2022 and is projected to surpass around USD 39.65 billion by 2032, expanding at a CAGR of 5.3% from 2023 to 2032.
Ottawa, Nov. 16, 2023 (GLOBE NEWSWIRE) — The global vehicle roadside assistance market size accounted for USD 24.87 billion in 2023 and is expected to reach around USD 33.94 billion by 2029, According to Precedence Research. North America led the global market with the largest market share in 2022.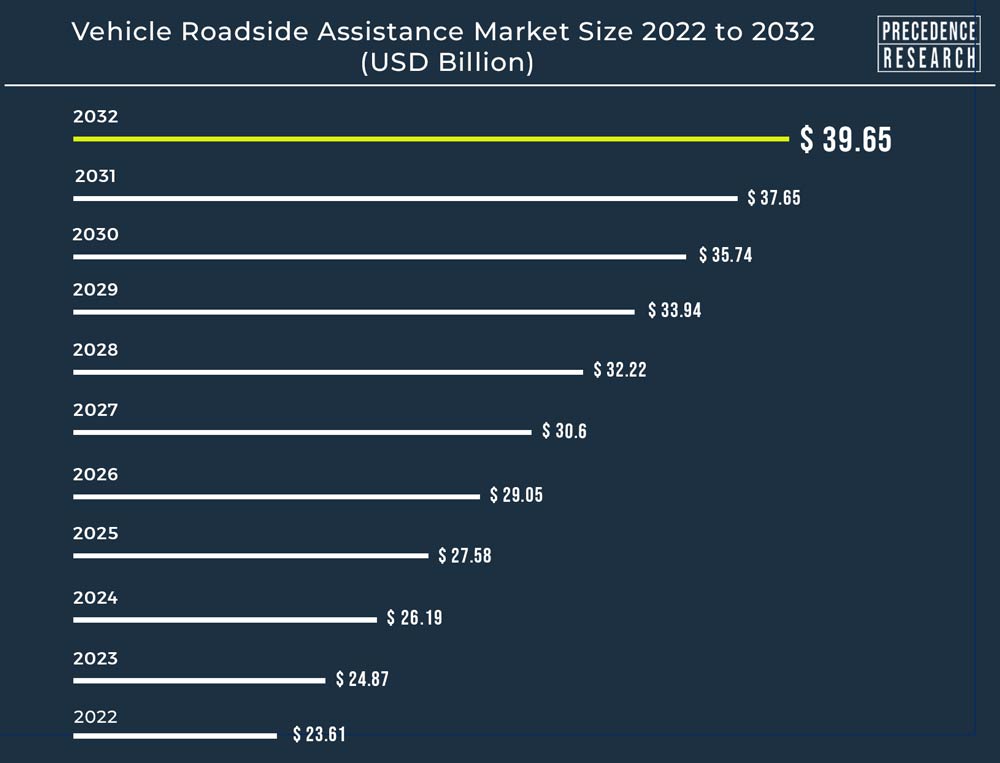 Vehicle roadside assistance, also known as breakdown coverage, is a service that assists the driver when their vehicle breaks down. It assists with mechanical failures, fuel delivery, flat tires, and more. According to data from Highways England, a government-owned company that operates the UK's main roads shows 224,225 car breakdowns on Britain's busiest roads during a one-year period (April 2018 and March 2019). It's roughly 25 vehicles every hour. A leading commercial roadside assistance company in the United States reports that they receive over 5,000 calls a day for fleet roadside assistance. That translates to 35,000 calls a week, 147,000 a month, and 1.76 million calls for help yearly.
Download the Sample Pages@ https://www.precedenceresearch.com/sample/1006
The vehicle roadside assistance market is growing due to factors such as rising vehicle ownership, the requirement for reliable and prompt assistance, and the aging vehicle population that is more likely to break down. Additionally, increasing vehicle sales and a growing focus on safety and convenience are driving the growth of the market. However, pressure to improve response times, manage service quality, and accept changing customer preferences is limiting the market growth. Furthermore, technological advancements such as AI-driven dispatch systems, electric vehicle support, and the integration of connected vehicle features are expected to present opportunities in the market.
Key Insights:
By Service, the towing service segment has held the biggest revenue share in 2022.
By Provider, the auto manufacturer segment held the major market share in 2022.
By Vehicle, the passenger vehicle segment had the largest market share in 2022.
Regional Insights        
North America is expected to grow during the forecast period due to the presence of multiple insurance providers and a wide range of third-party vendors. Moreover, high consumer demand for roadside assistance has been growing annually. Moreover, the Middle East & Africa is also expected to grow owing to the increasing number of aging vehicles, which are expected to witness breakdown and various mechanical and electric issues, leading to demand for roadside assistance.
You can place an order or ask any questions, please feel free to contact us at 
sales@precedenceresearch.com | +1 650 460 3308
Vehicle Roadside Assistance Market Scope
| | |
| --- | --- |
| Report Scope | Details |
| Market Size By 2032 | USD 39.65 Billion |
| Growth Rate from 2023 to 2032 | CAGR of 5.3% |
| Base Year | 2022 |
| Largest Market | Europe |
| Fastest Growing Region | Asia Pacific |
| Segments Covered | Service, Providers, Vehicle, Region |
| Companies Mentioned | Viking Assistance Group AS, ARC Europe SA, Swedish Auto, SOS International A/S, Allianz Global Assistance, Falck A/S, Allstate Insurance Company, AAA, Agero, Inc., Best Roadside Service, AutoVantage |
Service Insights
Battery assistance service is expected to grow faster during the forecast period owing to the increasing complexity of modern vehicles, which rely heavily on electronics and advanced battery systems. When drivers' batteries stop working or malfunction, they are frequently stranded and unable to start their cars. This service guarantees drivers' convenience and safety and provides a prompt resolution. The need for battery assistance has increased recently due to drivers experiencing problems with dead batteries brought on by various circumstances, such as harsh weather, extended periods spent driving, and using accessories that consume a significant amount of electricity.
Battery assistance service providers provide jump-start cars with jumper cables or portable power packs and offer advanced diagnostics to precisely identify battery issues. They also provide on-site battery testing and battery replacement if a new battery is required. The need for dependable battery support grows as more cars integrate advanced electronics and battery-dependent features like infotainment systems, hybrid or electric drivetrains, and keyless entry. Furthermore, as electric vehicle (EVs) gain popularity, a growing need for specialized battery services to address issues specific to EVs is emerging.
Provider Insights
Automotive Clubs providers such as the American Automobile Association (AAA) and other clubs globally are expected to grow due to factors such as membership-based services, nationwide and international reach, reliability and brand trust, emergency response time, member benefits, and digital integration. Roadside assistance is an advantage of membership in automotive clubs. Members receive several benefits, such as emergency roadside assistance, in exchange for an annual fee. For these clubs, the membership model ensures an ongoing source of income and promotes customer loyalty.
Moreover, the Well-established automotive clubs are able to assist not just in their local area but also across the country and even around the globe, owing to their wide network of service providers. Travelers find this extensive coverage to be an intriguing selling point. Furthermore, with many years of experience offering roadside assistance, automotive clubs are frequently regarded as reliable institutions. Their appeal to customers is increased by their brand's reputation for dependability and high-quality service. In addition to roadside assistance, many clubs provide discounts on travel, lodging, and retail services. These benefits encourage customers to sign up for and continue as members even more.
Automotive clubs are adopting technology by providing members with easy access to information about their membership benefits, service provider tracking, and assistance requests via mobile apps and online platforms.
Vehicle Insights
The commercial vehicle segment is expected to grow significantly in the vehicle roadside assistance market. This segment includes a wide range of automobiles primarily used for commercial and transit use, such as buses, vans, and trucks. It is expanding because of several factors, such as the growth of logistics, the transportation sector, and e-commerce, which have caused the fleet size of commercial vehicles to grow. Many companies rely heavily on these vehicles, so malfunctions or downtime can have a negative financial impact. Given this, companies are spending more money on roadside assistance services to guarantee quick recovery from a problem. Service providers now customize their offerings to meet the varying needs of commercial vehicle operators, which range from heavy-duty towing to cargo-related assistance.
Roadside assistance-based fleet management solutions are becoming increasingly popular among companies because they provide effective fleet management, commitment to safety regulations, and lower operating expenses. Proactive maintenance, telematics integration, and dedicated support for electric and hybrid commercial vehicles are some of the advancements that identify this growing market. In response to the growing demand for dependable roadside assistance services for commercial vehicles, providers are expanding their offerings to meet the requirements of these companies. This is helping to shape the segment's continued development within the vehicle roadside assistance market.
Customize this study as per your requirement@
https://www.precedenceresearch.com/customization/1006
Market Dynamics:
Driver: Rising complexity of Vehicle Technology
The increasing complexity of vehicle technology is driving the growth of the vehicle roadside assistance market. Advanced electronic systems, complex safety features, electric and hybrid parts, and complex telematics are all standard on modern cars. Although these technological developments have increased vehicle safety and performance, they have also created new potential points of failure. Assistance and expertise are required to accurately diagnose and fix these complex systems when problems occur.
The increasing number of electric and hybrid cars, keyless entry systems, and advanced driver assistance features highlight how specific knowledge and equipment are required of roadside assistance providers. In a constantly shifting automotive landscape, this increasing complexity highlights the growing need for professional assistance when issues relating to vehicle technology arise, giving car owners a dependable support network.
Restraints
Environmental Regulations and Electric Vehicles
The rising focus on environmental sustainability and the rising popularity of electric vehicles limits the growth of the market. EVs differ from conventional internal combustion engine vehicles because they have fewer moving parts and utilize different power sources. This transition requires expertise and tools for battery management, charging, and electric powertrain components. Further, globally, the drive for lower emissions results in stronger environmental laws. In order to comply with these rules, roadside assistance providers have to adapt their offerings to reflect sustainable practices. Roadside assistance providers must invest in equipment and training to help EV owners efficiently as the number of EV owners rises.
Opportunities
Digital Transformation and Technology Integration
The utilization of technology to enhance customer experience and modernize operations has several benefits. Roadside assistance companies create easily navigable online and mobile applications that let users track service providers, request assistance, and access membership details. With streamlining the service request procedure and offering transparency are two things that current tech-savvy consumers greatly value and improve the customer experience. Moreover, real-time data and diagnostics are obtained by integrating with car telematics systems, facilitating proactive maintenance and quicker reaction times.
Assistance from providers is more effectively provided; if possible, problems are detected before they lead to breakdowns. Chatbots and artificial intelligence (AI) enhance customer support by responding quickly, handling service requests automatically, and providing constant assistance. This lowers operating costs while also improving customer satisfaction. Furthermore, data analytics enables service providers to customize their offerings, comprehend client preferences, and identify development opportunities. A seamless and successful customer service experience is achieved by embracing technology in customer support. Several instances of this include interactive troubleshooting guides and video chat for remote diagnostics. Thus, technology integration and digital transformation offer ample vehicle roadside assistance market opportunities.
Related Reports
Small Commercial Vehicle Market: The global small commercial vehicle market size reached USD 482.20 billion in 2022 and it is projected to hit around USD 819.74 billion by 2032, poised to grow at a CAGR of 5.5% from 2023 to 2032.
Advanced Driver Assistance Systems (ADAS) Market: The global advanced driver assistance systems (ADAS) market size surpassed USD 44.62 billion in 2022 and is anticipated to reach around USD 158.24 bn by 2032, registering a CAGR of 13.8% during the forecast period 2023 to 2032.
Passenger Cars Market: The global passenger cars market size accounted for USD 1,549.22 billion in 2022 and it is expected to hit around USD 2,675.92 billion by 2032, poised to grow at a CAGR of 5.62% during the forecast period 2023 to 2032.
Recent Developments
In May 2023, the Vadodara-basedRunR Mobility, a leading electric vehicle (EV) manufacturer, partnered with vehicle assistance major ReadyAssist after signing an after-sales service agreement to enhance customer offerings.
In Jan 2023, ReadyAssist acquired SpeedForce for USD 10 million to set up a 1000 2W workshop chain by April 2024, making it India's largest chain of multi-brand 2W workshops.
In Oct 2023, Audi India launched a 10-year roadside assistance program for its customers, covering 24×7 and 365-day coverage across the country for cars sold from October 1, 2023. The initiative is part of Audi India's customer-first approach.
You can place an order or ask any questions, please feel free to contact us at 
sales@precedenceresearch.com | +1 650 460 3308
Market Segmentation
By Service
Tire Replacement
Towing
Jump Start/Pull Start
Fuel Delivery
Lockout/Replacement Key Service
Battery Assistance
Winch
Trip Routing/Navigational Assistance
Other Mechanic Service
By Provider
Motor Insurance
Auto Manufacturer
Automotive Clubs
Independent Warranty
By Vehicle
Commercial Vehicle

Light Commercial Vehicle
Heavy Commercial Vehicle

Passenger Vehicles

Hatchback
Sedan
Utility Vehicles
By Geography
North America
Europe
Asia-Pacific
Latin America
Middle East & Africa (MEA)
Immediate Delivery Available | Buy This Premium Research Report@
https://www.precedenceresearch.com/checkout/1006
Unlocking Market Insights through Data Excellence 
The "Precedence Statistics" flexible dashboard is a powerful tool that offers real-time news updates, economic and market forecasts, and customizable reports. It can be configured to support a wide range of analysis styles and strategic planning needs. This tool empowers users to stay informed and make data-driven decisions in various scenarios, making it a valuable asset for businesses and professionals looking to stay ahead in today's dynamic and data-driven world. 
To Access our Premium Real-Time Data Intelligence Tool, Visit: 
www.precedencestatistics.com
About Us
Precedence Research is a worldwide market research and consulting organization. We give an unmatched nature of offering to our customers present all around the globe across industry verticals. Precedence Research has expertise in giving deep-dive market insight along with market intelligence to our customers spread crosswise over various undertakings. We are obliged to serve our different client base present over the enterprises of medicinal services, healthcare, innovation, next-gen technologies, semi-conductors, chemicals, automotive, and aerospace & defense, among different ventures present globally.
Our Blogs:
https://www.towardshealthcare.com
https://www.towardspackaging.com
For Latest Update Follow Us:
Linkedin | Facebook | Twitter

Disclaimer: The above press release comes to you under an arrangement with GlobeNewswire. IndiaShorts takes no editorial responsibility for the same.