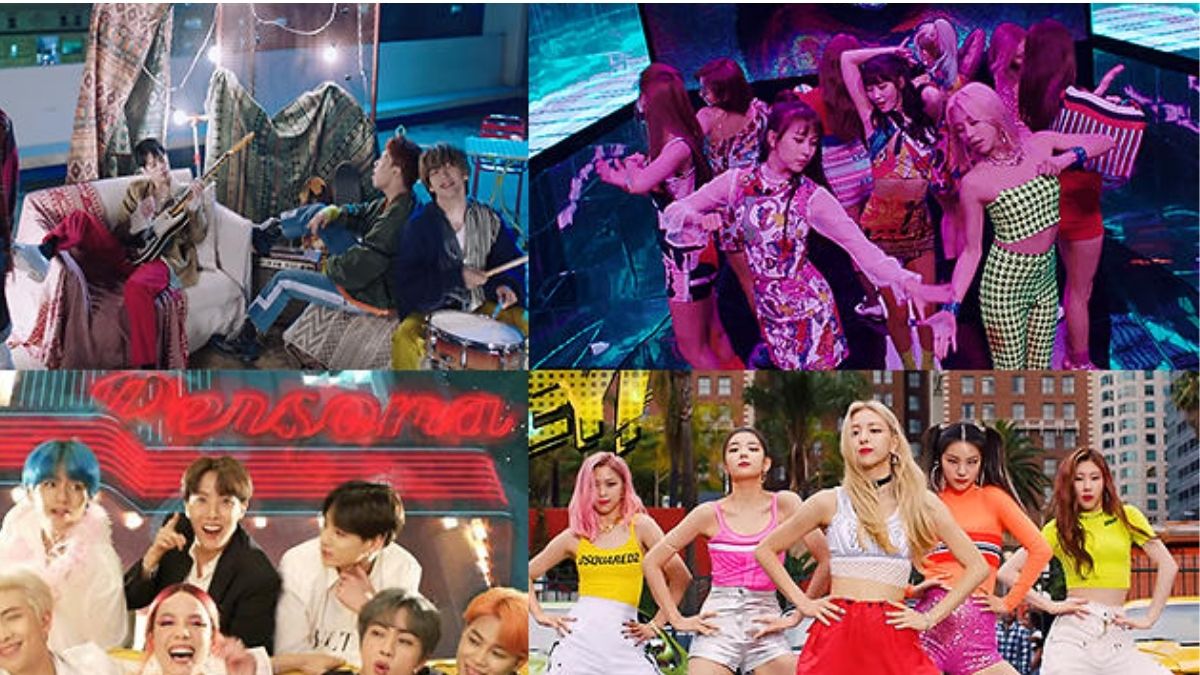 "Butter (Hotter Remix)" – BTS
Global mega stars BTS delivered plenty of fantastic music videos in 2021, making it incredibly difficult to choose our favorite for this list. While "Permission To Dance" came close to nabbing a spot here thanks to its brilliantly positive vibes and inclusion of sign language in its choreography, "Butter (Hotter Remix)" won out (rather unexpectedly) amongst our team thanks to BTS' endearingly chaotic chemistry with each other in the music video. The clip keeps it simple with each member of the septet coming forward to perform their lines in the song while the rest of the band dance, perform stunts and generally keep each other entertained in the background. It's hard not to smile–or laugh out loud– when watching this clip and it does a fantastic job of letting each member's personality shine through while also giving audiences an idea of their dynamic as a team and family. A particularly hilarious moment is when the vocalists take turns to mime exaggerated versions of their lines while the rest of the members stand by them attempting to keep a straight face (Jung Kook fails spectacularly, and it's adorable.) There are plenty of inside jokes, references to older choreography videos, and other hilarious unscripted antics to focus on, making it impossible to watch this video just once. –R.C.
 "Drunk-Dazed" – ENHYPEN
ENHYPEN's eerie April 2021 release "Drunk-Dazed" comprised bountiful theories for fans who hold a sweet spot for all things dark and supernatural. A modern vampire tale expressed through ENHYPEN's youthful energy, "Drunk-Dazed" tells the story of seven vampires disguised as high school students: "Can't control my body dance, dance, dance/ This sweet scent/ Fangs glowing red/ Revel in it, this carnival, wow, wow." Although we don't get to see the group slipping into a classic vampire demeanor (one with fangs and heavy black cloaks), ENHYPEN makes their hidden identity known through the symbolic use of blood, making this video slightly uncomfortable for anyone with hemophobia. From party cups filled with red drinks to red rainfall and a fountain sprouting red liquid, ENHYPEN makes it clear they're out to quench their bloodlust. The storyline driving the video is dark and sinister, making "Drunk-Dazed" a must-watch for anyone who adores dissecting music videos for hidden meanings and theories. The tale kicks off with a high school girl lifting an invitation to a 'bloody birthday party.' The camera pans sideways with a chilling sound engulfing the scene. Here, we catch a glimpse of former I-Land participants (now members of HYBE Label's Japanese boy group) K and EJ studying the girl from afar. While their physical form is that of a human, their werewolf-outlined shadow reveals their truth. The overall party setting, confetti and concoction of an EDM, pop, rock and synth soundscape is smoke and mirrors at best, covering up the motive of the party — to satiate the vampires. The group also brings in a taste of mania and terror through their choreography. Vaguely resembling zombies, the chorus sees the group left their arms up before leaping into the air. It's the minor details such as these that leave you re-visiting the "Drunk-Dazed" repeatedly, guaranteeing a fresh discovery with every watch. – D.D
"Paranoia" – Kang Daniel
In addition to dropping one of our favorite albums this year, Kang Daniel delivers excellence in the visual space with the music video for "Paranoia." Serving as the lead single of his third EP Yellow, "Paranoia" addresses the anxiety, fear and constant self-reflection that depression can ignite. The video for the alt-rock trap number sees Kang attempting to hide and escape from a mysterious and monstrous dark figure. There are various scenes that allude to social anxiety, panic attacks and the track's namesake paranoia, including a suffocating shot of Kang trapped underwater and moments where he's walking through a crowded space, increasingly fearful and wary of everyone around him.
 "Hwaa" – (G)I-DLE
"Hwaa " is the lead single on (G)I-DLE's last music project as a sextet, I Burn. In Chinese characters, the term "Hwaa" can be translated to two different meanings 'fire' (火) and 'flower' (花). The track uses the metaphor of ice, burning fire and blooming flowers to express the journey of re-igniting the warmth within one's heart, after thawing the ice built up from the aftermath of a cold breakup. True to (G)I-DLE's profound, symbolism-rich music video aesthetic, "Hwaa" begins with the shot of a tree that was once brimming with hope and life, but has now lost its vigor due to the onset of winter. Donning all-white ensembles, the members carry out an intricate, dexterous choreography on an icy, barren field — exemplifying the frigid, empty state of their hearts. This is followed by a picturesque shot of the group's leader and main rapper Soyeon, rapping her verse in a larger than life raven's nest, following which the girls transition into floral, summery dresses and execute the dance routine on the sets of a greener, blooming field — signifying hope and their desire to reclaim control over the reins of their newfound life. The track's ending verse denotes the final stage of resuscitation, and the members now transition into fiery all-red ensembles as they perform before a blazing red backdrop. The three sets ultimately come together to build-up one complete cycle of growth after loss: winter (death), flowers (hope) and fire (resurrection). – O.M.
 "Odd Eye" – Dreamcatcher 
Widely celebrated for their hauntingly dark and thought-provoking concepts, Dreamcatcher's January 2021 release "Odd Eye" fits the group's cinematic universe effortlessly. Driven by a prominent cyberpunk concept, "Odd Eye" takes symbolism and social commentary a step further with the group's take on how social media distorts our reality. Dripping with captivating visual effects, Dreamcatcher makes the symbolism evident through a brief look at how the tree of language (a staple in the group's cinematic universe) is tainted by technology as opposed to black magic. The critique continues through the group's expressions around technology — rather than seeming gleeful and content, the members appear to glum and stoic around mobile phones, painting a picture of how excessive use of technology is making society robotic. High-budgeted, symbolic music videos have proven to play an integral role in the boom of K-pop, and seeing Dreamcatcher make remarkable contributions to the genre's history with their unique concepts and pop-rock soundscape is an absolute treat. – D.D.
"Red Lights" – Stray Kids
While we absolutely adored the music video for "Thunderous" and love and appreciate all eight members, powerhouse group Stray Kids truly surprised us with their stylistic and sonic transformation on "Red Lights." Featuring leader/vocalist Bang Chan and rapper/vocalist Hyunjin, the track is a B-side on their 2021 studio LP NOEASY and is a dark, seductive and dangerous affair. The music video sees the members tying each other down with ropes and chains, both desperate to escape, but determined to ensure the other stays bound. It's a reflection of the song's lyrics which outline an obsessive, push and pull relationship. Written and produced by Bang Chan and Hyunjin, "Red Lights" is an alternative R&B number built of intricate string sections during the verses with incredibly powerful electric guitar riffs and bass drops ripping through the chorus. There's violence to it, as well as sadness, and the manic nature of the obsession is clear through the instrumentals alone. Bang Chan and Hyunjin work brilliantly as a team in the video, mirroring each other with every move and delivering emotions that cruise through anger, fear, desperation and casual indifference. The choreography is aggressive but graceful, incorporating moves with the chains and letting both artists use their skill sets as dancers to challenge and compliment each other. –R.C.
 "Lalisa" – Lisa 
Coming in fourth, we have BLACKPINK member Lisa's electrifying lead single "Lalisa" from her solo debut album of the same name. Brimming with power and grandiose, the bold track expresses her unabashed desire to be adored for who she is, and is a celebration of everything that makes her Lisa.. Keeping in line with YG Entertainment's god-tier production levels, the high-budget music video showcases the different, versatile shades of the artist. The first scene opens up with the Thai rapper confidently strutting down an alleyway lit up with neon signs, after which she transforms into a badass biker chick and a suit-clad special agent deployed with the task forces, followed by a seamless transition into a sultry, enigmatic pole dancer where the main dancer shows off her flawless skills, and finally a girl-next-door avatar. However, the highlight of the video by far comes in the rap bridge; sitting atop a gilded throne, adorned by a crystal-embellished, hand-embroidered gold brocade costume and the traditional Thai 'Rad Klao Yod' headgear, Lisa pays homage to her roots as she launches into a fiery rap verse. Overall, the music video is a celebration of the 24-year-old's unique signature style — both in music and fashion — her Thai heritage and of course her stellar skills as a dancer. – O.M.
"0X1=Lovesong (I Know I Love You)" – TOMORROW X TOGETHER
TXT's full-length album The Chaos Chapter: Freeze features the rock-themed title track "0X1=Lovesong (I Know I Love You)." The song is performed from the perspective of a hopeless romantic, who believes in love as his only saving grace in an otherwise drab and dreary world. The music video starts with an impactful quote from author Kan Yujeong on 'An Excellent Metaphor For A Hole In Life, Manhole' that reads:
"A period of growth can be considered a universal hole that is placed in anyone's life at a certain point. However big or small, as we pass that period of time, we experience spiritual hunger and an empty hole. But to some, the hole becomes such a complex shape too frequently and intrudes in their lives."Filled with Easter eggs and references to the group's previous eras, the cinematic music video follows the story of a protagonist (portrayed by the group's rapper/dancer Yeonjun) caught in the midst of a heated argument between his parents, seemingly not for the first time. Visibly exhausted and seeking an escape from his troubled reality, he decides to run away from home. He steals his parents' car to meet his friends (Soobin, Taehyun, Beomgyu and Huening Kai) and embark on the road trip of their lives. The music video proceeds to show the boys having a great time together, enjoying each other's company in an abandoned pool house, performing in their own scaled-down rock concert in grungy black and white fits, and attempting to burn their garments in a fire pit, only to end up accidentally lighting their car on fire, leaving them with no way to return home. Ultimately, however, the music video ends on a cliffhanger as Yeonjun wakes up in a deserted lot all by himself, with no sign of his 'friends', and the supposedly ravaged car is now seen in its bona fide perfect shape, leaving us to wonder whether all the events were merely a dream sequence crafted by Yeonjun's imagination in an attempt to fill the chasmal void left by isolation and loneliness. – O.M.
"Advice" – Taemin
Before enlisting for mandatory military service in 2021, SHINee member and K-pop veteran Taemin dropped his third solo EP Advice in May. The music video for its lead single of the same name was yet another brilliant example of Taemin's emotional and versatile artistry, this time diving in to explore frustration. The vocalist contrasts gritty and dark visuals with his own beauty and elegance–he begins the clip by playing the piano while his bare upper body is smeared in black paint and tattoos. As the clip shifts scenes to bring in Taemin's unmatched skills as a dancer, it takes a dangerous tone–the artist barely breaks eye-contact with the camera as he launches into lightning-fast choreography, his expression dangerous. His control over his own body is outstanding, visible when he shifts from faster moves to slow, intricate moments to match the strange but alluring trap-synth/piano blend of R&B.
 "Libido" – OnlyOneOf
OnlyOneOf took a major risk with the music video for "Libido"– the alternative R&B lead single off their EP Instinct Part. 1– and set the Internet ablaze. The video sees the group depict romantic same-sex relationships, with the members taking on the acting roles themselves. They divide into two couples and a conflicted love-triangle, outlining each story clearly and don't shy away from physical touches on bare skin, intimate looks between each other and building sexual tension. There's heartbreak, tenderness, mystery, jealousy and love in a music video that borders more into the territory of a powerful indie film. The choreography is most definitely risqué with moments that include vocalist Nine touching vocalist Love intimately (sparking outrage among more conservative viewers when the group performed the track live on music shows) and bold costumes– the "Guilty Pleasure Ver." MV in particular– but it wasn't all just for show.