Image Courtesy: andhrawishesh.com
Actor Priyamani who is know for her role as Suchi in 'The Family Man', opens up about a time when she shot with Shahrukh Khan in Chennai Express for a special song.
The Chennai Express actor often gets glamorous reviews from all his co-stars and the review by Priyamani is just as positive.
Before playing the role of Suchi, Manoj Bajpayee's wife in The Family Man, Priyamani featured in the song '1234' in Rohit Shetty's 'Chennai Express' starring Shahrukh Khan and Deepika in lead roles.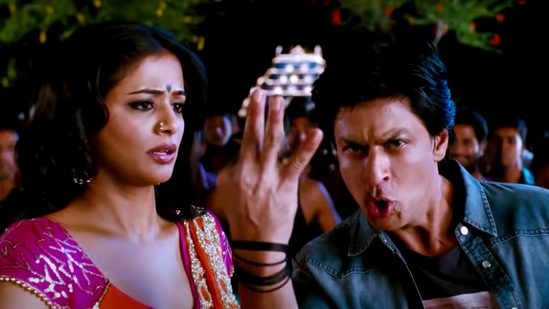 A still from the song '1234' in Chennai Express
Priyamani divulged into the details of the shoot and how Shahrukh Khan gave her ₹300 during the song's shoot.
In an interview with Zoom, she said, "We shot this (song) in Wai for over five nights and it was great (experience). He (SRK) is called the Badshah of Bollywood for a reason. He is one of the biggest superstars we have in our country. And he never lets that success get into his head. As in terms of when we shoot, he is such a sweet guy and as normal as anybody can be. He makes everybody was comfortable around him. I think his persona, his charisma itself makes you love him more because of the human being that he is.'
She revealed that SRK made everyone on set feel extremely comfortable. From the time she met him, he was an absolute 'sweetheart'. Amidst the shoot, they played 'Kaun Banega Crorepati' on his iPad after which he gave Priyamani 300 rupees which she till date carries in her wallet.