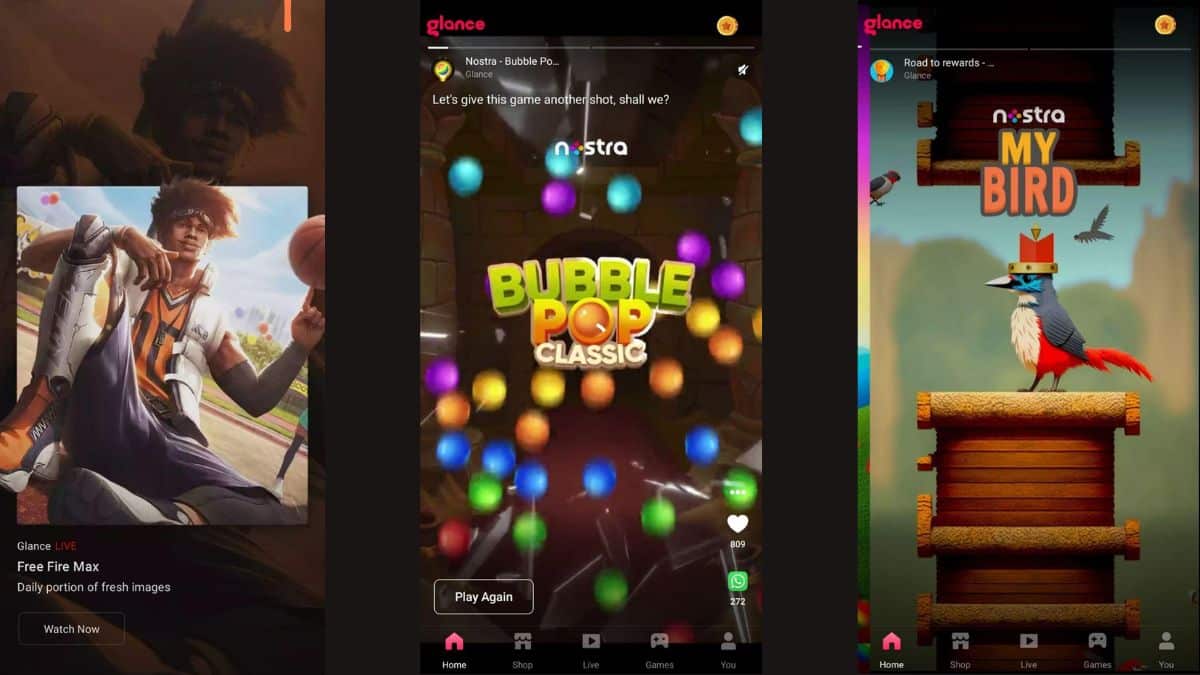 Glance is not your average lock screen app, it's a technology made to enhance your experience with your smartphone. Quite literally it is built to entertain your needs at the comfort of your smartphone's lock screen! Appealing enough? What if we tell you that Glance brings to you a variety of games, just with a click of your power button? The gamer in you is hooked, right? You should be! Because saying no to Glance is saying no to 500+ games! Not ideal for the gamer in you, right?
With that said, this article will give you an intricate overview of Glance as your Ultimate Gaming Companion. Right now, you just know the tip of the iceberg. There's so much more to Glance lock screen and gaming! This article is aimed to make you realize exactly that! Alongside, we've ensured to give answers to your questions. So, any questions ranging from- how to remove Glance from the lock screen to how to turn on the smart lock screen, are addressed!
Glance: The revolutionary technology
Yes! Glance is a revolutionary technological advancement. It's something new and creative, right out of the minds of some Indian techies! Therefore, it's an India-based technology and is one of a kind. There's so much Glance offers, it's almost like a genie, at the press of your power button. This smart lock screen is best known for its ability to provide a platform for gamers.
With hundreds of games as far away as a click on the smartphone, Glance is on its way to becoming the ultimate gaming companion! Its features are available to the users of MI, Samsung, realme, etc. smartphone's users.
But this isn't all, there's so much more, keep reading and learning all!
Are there any benefits to keeping the Glance lock screen?
If you are looking for benefits, then please know, there's nothing but benefits to Glance lock screen! Apart from serving as the gaming buddy for people interested in games, it also serves other users with very different tastes. Starting from Games, Glance can vary right to the new updates. And in doing so it also covers different other categories like entertainment, science, technology, lifestyle, health, meditation, and much more!
Interesting statistics about Glance
As much as we agree that the features of technology are important, we believe that the statistics are also of the same essence. Therefore, to understand the utility and increasing popularity of Glance, please go through the points below:
The currently active user base of Glance smart lock screen is around 270 million users.
According to Economic Times, Glance has recently marked an active user base of 30 million Indonesian users.
A recent study also shows that women compromise over 40% of the user base of Gamers on Glance.
The Glance gaming community has reached a user mark of 200 million, a 2022 report states.
Nostra, the live-streaming platform by Glance, has an estimated user count of 25 million gamers.

Games on Glance: Beat that anxiety
It's very often that we're met with stress that leads to anxiety and spirals us into the same patterns. But, with Games on Glance, you get an escape from that anxiety! Just let the numerous games you can play, just at a tap, take you out of that stress! There are so many of them, you'll never get bored! So, have your pick and start now!
Gaming categories that'll cater to your taste
Glance is a smart lock screen specially designed to cater to your taste! By scavenging the data about your preference, Glance comes up with the perfect gaming suggestions for you! Also, the games are available in 19 categories with about 500+ games in total. So, it's no less than a treat! Just go and play whichever game you like! The  Glance lock screen is not running short on games, anytime soon!
Skip the tiring game downloads
Another interesting feature of games on Glance is that it provides games without downloads. So, you can enjoy these games and not be worried about your phone's memory either. Alongside this, you can also save your data by skipping the download. Just tap, play, and move ahead!
Live streams and interactions that'll cheer you up!
Are you passionate about watching or streaming, live gaming? Then you are in luck! With Glance's live streaming platform, Nostra you can live stream on Glance lock screen! Also, you can watch the live streams of some of your favorite gamers straight on your smart lock screen. Not only that, but you can also watch live streams of various sports events, live gaming, celebrity interviews, and much more!
Glance: A Wind-up
And it's finally time to sum up. But, it's more of an oversight at Glance on smartphones for those of you who are busy! Read the points below to understand:
Glance smart screen itches both your creative and intellectual neurons with the beautiful sceneries and the facts related to it.
You'll have all the updates, no matter if it's news, fashion, lifestyle, shopping, etc., at one tap of your finger.
Glance is bringing change by introducing regional languages to the mix. So, use it if yours is available!
You can shop with Glance on your MI, Samsung, realme, and Redmi smartphones.
Not to mention, there are games for everyone, i.e., Glance is age inclusive!
How to Enable/ Remove Glance from lock screen?
Hopefully, the above article was of help in deciding the role Glance can play in your gaming experience. Alongside that, it's also our responsibility to address every other question about the Glance lock screen. Therefore, you can visit our FAQs section to get details about how to remove Glance from the lock screen and much more. We are more than happy to help, that's what we aim for, user satisfaction!